Storyspace
A Hypertext Tool for Writers and Readers
Storyspace is a hypertext writing environment that is especially well suited to large, complex, and challenging hypertexts. Storyspace focuses on the process of writing, making it easy and pleasant to link, revise, and reorganize. Storyspace is available for Windows and Macintosh computers.
Try Storyspace now

A free demonstration of Storyspace, for Windows or Macintosh, is available now. Includes complete documentation. Download now:
Storyspace creates hypertexts that you are free to publish or redistribute free. Storyspace hypertexts can be saved as stand-alone programs or exported to the World Wide Web.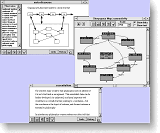 Storyspace excels at creating rich hypertext structures. The unique and powerful Storyspace map shows each hypertext writing space and each of its links. Because writers can add, link, and reorganize by moving writing spaces on the map, Storyspace encourages creative exploration and flexibility.
Storyspace is best known as the tool of choice for serious hypertext writers. Storyspace is also popular for research and analysis, especially in difficult areas like anthropology and journalism, where the organization of information often changes as information accumulates. Because Storyspace is easy to use, and because it helps writers to visualize and manipulate their work, Storyspace is also popular in writing courses and workshops throughout the world. For one of these courses, Prof. Jean Clement of the University of Paris 8 has written a French-language guide to Storyspace.
More below:
Storyspace on the Big Screen by Adrian Miles
An Australian educator discusses the role of Storyspace in film criticism.
Storyspace In China by Maris Boyd Gillette
An anthropological team from Harvard uses Storyspace in the field, to study the customs of the Han Chinese.
Storyspace in the Classroom, by Jeanie Crane
A courseware review, reprinted from Computers In The Humanities.
Storyspace in the Language Laboratory, by George Mitrevski
Storyspace is found to be "extremely useful for developing reading materials for foreign language learners."
Documenting Government Procedures on the Web: Storyspace and the Decision Process Guidebook
Technical writers at the U. S. Bureau of Reclamation, a government agency, use Storyspace to design powerful online documentation with rich and effective linking.
Storyspace versus the 'Database of Doom': customer support in the insurance industry, by David Caruba
Storyspace fills a void in providing flexible data access for internal support personnel.
Storyspace and New Media, by Gloria Stern.
Storyspace makes an effective tool for planning and storyboarding.
The Loom and the Weaver: Storyspace and Literary Research, by Dene Grigar and Mindi Corwin.
Two scholars use Storyspace to study the changing portrayal of women by studying Homeric translation through the ages.
Storyspace and Hypervideo Screenwriting: the HyperCafe project.
A profile of Storyspace as a tool for interactive screenwriting, by the winners of the first Engelbart Prize.
Much of the best-known hypertext fiction that has appeared to date was written using Storyspace, starting with Michael Joyce's pioneering classic, afternoon, a story. Eastgate publishes an extensive catalog of fine, original hypertext, both fiction and nonfiction.
Questions about Storyspace, or about any Eastgate publication: From the USA or Canada, call Eastgate Systems at (800) 562-1638. From overseas, call +1 (617) 924-9044. From anywhere, e-mail us at info@eastgate.com.
Storyspace is designed to be compact, fast, and compatible.
| | |
| --- | --- |
| Macintosh | Windows |
| Power Macintosh, 4MB RAM available for Storyspace, 4 MB hard disk space available for installation. Compatible with Macintosh OS 7.6 or later (8.5 or later recommended) including OS X. | Requires any Pentium, Celeron, or newer chip, and Windows 95 or later. (Windows 95, 98, NT, 2000, me, XP, or later.) If you have enough RAM to run Windows, you have enough RAM for Storyspace as well. |
Storyspace comes with an unconditional money-back 30-day guarantee.
As always, Storyspace upgrades are an amazing deal.
Macintosh: For a limited time, Storyspace 2 is a FREE upgrade to anyone who purchased Storyspace for Macintosh after 1 July 2000. And any registered Storyspace for Macintosh user can now upgrade to Storyspace 2 for only $95.
Windows: Storyspace 2 for Windows is currently a FREE upgrade to any registered user of Storyspace for Windows version 1.75. And a registered user of any earlier version of Storyspace for Windows can upgrade to version 2 for Windows for only $95.
You can also write, call, fax, or email Eastgate with questions, or to order.
We accept Visa, MasterCard, American Express, personal and corporate checks, and academic purchase orders.
Prices subject to change without notice. Educational discounts are available. Call for details, or email info@eastgate.com.
| | |
| --- | --- |
| Storyspace for Macintosh | $295.00 |
| Storyspace for Windows | $295.00 |
| Ten-user license (for Macintosh or Windows) | $695.00 |
| Hundred-user license (for Mac or Windows) | $4995.00 |