Tinderbox 2.5

New: Tinderbox 2.5. Faster, smoother, and more powerful than ever. With 73 exciting new improvements, Tinderbox 2.5 gets better and better. Upgrades are free if you purchased Tinderbox within the past year, or get Tinderbox 2.5 and a full year of free upgrades for just $70.
Agent priorities let you add agents that only run occasionally, giving you even smarter Tinderbox documents without slowing you down.
Faster and even more flexible image handling makes adding pictures a snap.
Want to add a new key attribute? Just drop it on the note and you're done! Want to rearrange the key attributes list? Drag attributes where you want them.
Draggable color swatches.
Ordered QuickLists for even easier Web export.
Read OPML files -- or drop them into your Tinderbox maps.
For details on all the improvements, simply download the Tinderbox demonstration and check the release notes.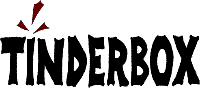 Download Tinderbox now!
"A fantastic tool for interoffice brainstorming, meeting note-taking, or just sitting down to think by yourself" -- Sean Carton, clickZ
"The Weblog Wonder" -- MacWorld (4.5 mice)
"A truly elegant thinking environment" -- David Fultz
"The software I feel like I've been waiting 15 years to have" -- Doug Miller, CTO, iRobotics
The most useful piece of software I have on my PowerBook. -- Rob McNair-Huff, editor, Mac Net Journal
See Tinderbox In Action
Getting started
For making notes
For weblogs
Mastering Tinderbox
User Stories
Training
site licenses
Community
Tinderbox Public File Exchange
Download Tinderbox now!
Syndication
EXCHANGE

Tinderbox Public File Exchange
TINDERBOX

Tinderbox news
"Amazing...clever and elegant." — The Guardian
"Offers innovation driven companies a unique new way to both manipulate and manage ideas visually" -- Robert Ouellette, Boxes and Arrows
Subscribe!
Keep in touch with Tinderbox! Moderated, concise, and timely; we never share your email address.