Title: Re: Knowledge Repository
Post by Stacey Mason on Dec 24th, 2009, 11:45am
---
There are a couple of options here that might be useful.

1: If you're having problems with things being tucked away in the map, you can try creating pseudo-hierarchy on the outline with separators. This way it's easier to keep things on the same level, and everything is visible on the map. You can then use adornments to visually separate.

2: If you're going for more of the detailed outline approach, you could have a "Map" container on the outline and fill it with aliases of the information you want to map.

The important questions to ask yourself are:
What do you want tucked away from immediate view on the map? What do you want to see in the same space?
Will linking be sufficient to connect notes, or do you want to see them in the same space?
How detailed do you want your outline to be?

For something like the first approach, I've created a sample TBX outline and map:

The top level outline with nothing expanded looks like this: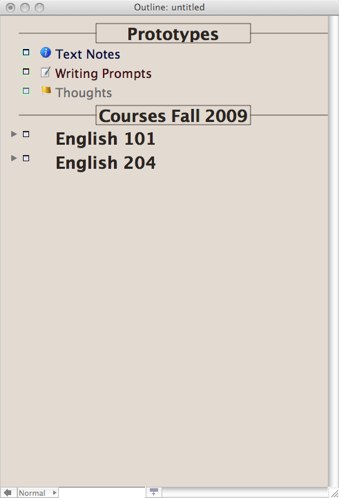 I made prototypes of the main types of notes you have so that you don't have to put in hierarchies to express them.  You don't need the badges, but I put them in to make it easier to see the types in these images.


Once expanded, the outline for English 101 looks like this: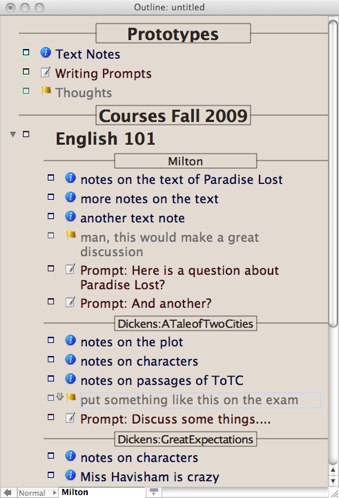 You can see the different types of notes easily. By using these prototypes and the separators to avoid more hierarchy than I need, I'm able to more or less keep the notes on the same level. This means I can see them all on the same map view.


If we take a look at this in map view, we get our top level:


In this map, I wanted to be sure the two courses are separate, but linkable. You can see how their notes are hidden away from each other here. I could also put them all on one huge map and use adornments to visually separate them.


And the map of English 101:


I've made adornments to separate the units, but they are still linkable and in the same map.


If you wanted to take the second approach instead, having a more detailed hierarchical outline, you could have your outline however you want, then create a "map" container, then a "map of English 101 container" as a child of "map" and then have your aliases structured similar to my example.

This is the approach I use to organize my conference notes (the first idea) . I'm sure you can come up with other creative ways to incorporate the maps and outlines; these are just what I use.