Title: incorrect HTML entities
Post by Komori Kou on Jun 20th, 2015, 4:09pm
---
When working with various languages other than English, generated text via "HTML Exporting" is incorrect and unstable.

I will give an example.

[1] Preparing a sample note.
(1) Create a note.

(2) Set the text of the note to :
瀬をはやみ
岩にせかるる滝川の
われても末に
あわむとぞ思ふ

*(Japanese text, four paragraphs)

(3) Set the Attributes of the note :
HTMLDontExport -> false
HTMLExportTemplate -> /Templates/HTML page (built in)
HTMLEntities -> false



[2] Checking generated results.
You can check the results using HTML tab of the note.  Toggling between "Text" and "HTML" tabs could quickly show multiple results. Or, inspect actually generated text files using command "Export->as HTML" or "Exported Selected Note" under menu "File".

The symptom is:
First paragraph is always exported correctly, but second or following paragraphs may be exported as HTML entities despite that attribute "HTMLEntities" is set to FALSE. When a certain paragraph is exported as HTML entities, all following paragraphs are HTML entities also. The number of the paragraph starting to be generated incorrectly seems to be random; I can't perceive any rule in the number.

Following figures are the result of several trial one day. The start paragraph of the incorrectly-generated block fluctuates.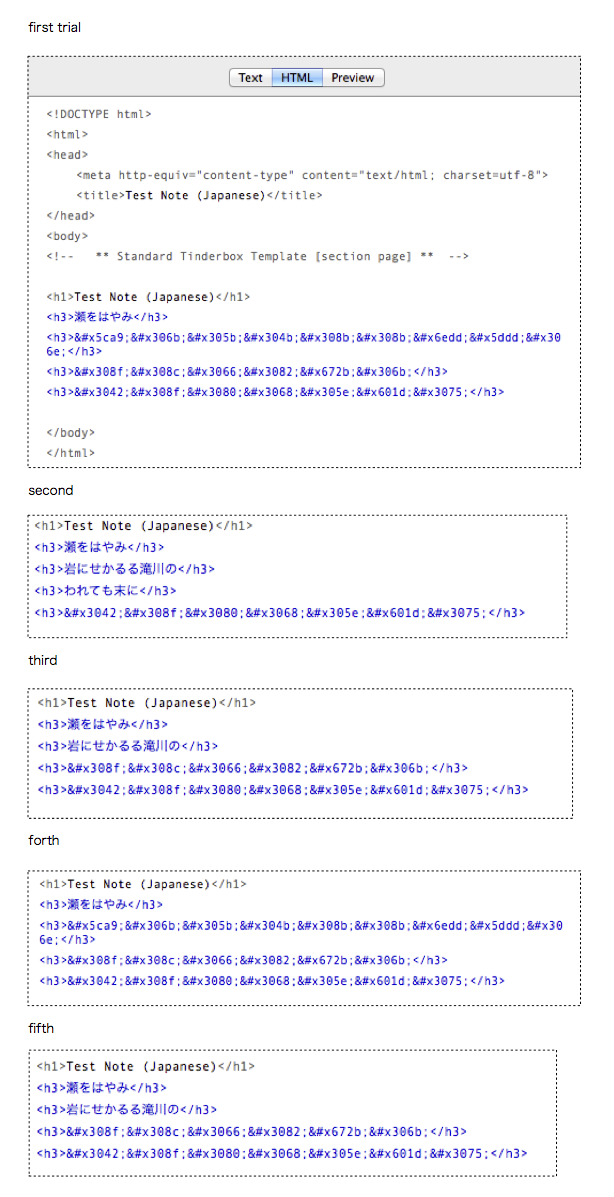 This phenomenon appears not only in Japanese, but also in other languages including Chinese, Korean, Russian, and even French.
I prepared sample text of each language. Please investigate with these text.

[Chinese]
凡用兵之法
全國爲上
破國次之
全軍爲上

[Russian]
Сквозь волнистые туманы
Пробирается луна,
На печальные поляны
Льет печально свет она.

[French]
Assis devant l'ordinateur dans son uniforme bleu de prisonnier, Nelson Butler, 46 ans, montre l'écran.
« Je comprends tout ! », s'exclame-t-il fièrement.
Sur la machine, des lignes de codes, des parenthèses, des chiffres, des accolades : l'ordinaire des hiéroglyphes des programmeurs en informatique.
Lui, le prisonnier condarné à perpétuité alors qu'il n'avait que 20 ans, s'estime « béni » d'avoir appris à manier l'ordinateur.


This issue affects severely the working flow of homepage building. When HTML exporting, Tinderbox determine whether each note is changed newly or not, and exports intelligently only newly-changed notes. The next thing that I need to do is synchronizing the exported files with FTP site using a FTP tool.

Version Six, however, may export unnecessary notes every time of exporting because of having this issue, and I need to sort out the files that are truly desired to be uploaded, decode HTML entities to original characters (due to the fact that the files containing plenty of entities are significantly larger in size than their original files at just about anytime), and upload them manually. These unnecessary work may be a big obstacle.

Version Six has been having this issue since its first version. Version 6.3.0 still has same issue.

I beg you to fix it.