Title: Re: Arranging notes in containers
Post by Mark Anderson on Jun 16th, 2016, 10:39am
---
For clarity, you reposition the child map in the parent container's by clicking and dragging anywhere on the background of the child map. If you click and drag on a note on the child map, Tinderbox will assume you are trying to move it up not the current map.

Below, I've a note called "A Container". Be dragging two other notes ("Child 1" and "Child 2") onto that note I've converted it into a container. The result is as here: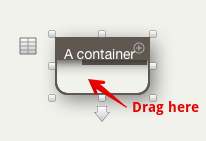 You can just see part of one of the child note's at the top of the viewport. If I click and drag the viewport downwards, you can see more of the child note; from the title you can see it's "Child 1":




Were I to click and drag on any part of the 'Child 1" icon - or that of any other child note, the result would be to promote it:




Once a container's viewport is dragged, the position is recorded as custom values of the container's $MapScrollX and $MapScrollY.

The parent's viewport $MapScrollX is drawn halfway across the interior of the container's icon (i.e. parent $Width/2) though depending on $TitleHeight the position itself may be obscured. Likewise $MapScrollY is drawn at a position of approximately parent $Height/2.

To try the trick suggested above, to (re-)set the container viewport to show the just-dropped item, the following seems to work in v6.5.1 as the OnAdd code of the parent container:

$MapScrollX(parent) = $Xpos-$Width;
$MapScrollY(parent) = $Ypos-$Height;

This seems to work even if the most recently added child item was dropped/created in another view (I tested using Outline).

Edit/footnote: it's probably worth mentioning that if dropping a note onto a map container, you don't really have any control where the note ends up in the child map. If the there is a note in the middle of the current viewport, Tinderbox will attempt to find an empty space close to, but not overlapping, the other note. Usually the drop it to the right/down from the other note.

Also, if the parent viewport is big enough you can drag child notes on the child map in the view port - though in practice it's easier to drill down to that map and tweak the layout there.