Title: Re: Image import and Use
Post by Mark Anderson on Aug 4th, 2016, 4:15am
---

Quote:

A 'thumbnail' of what? If that's to be either custom image or built-in icon then use badges ($Badge). The image below (from Mark Bernstein's blog post here) uses, so I understand, custom badge ($Badge) artwork:



Source: http://markbernstein.org/elements/CharacterNotes.jpg

By comparison, using a $Fill in the above scenario, the artwork would fill the whole note icon surface.

If by 'thumbnail' you mean a dynamically generated thumbnail of the note's text contents, then the answer is 'No'. If nothing else, as $Text is a variable width/height space it's not clear how such a thumbnail would be generated.

I'll confess it's still not unambiguously clear what task you're trying to achieve. I'd suggest resolving how to use custom badges/fill before totally discounting them.

~~~~~~~~
Custom fills/badges work fine here. Below is an image of a file I just made: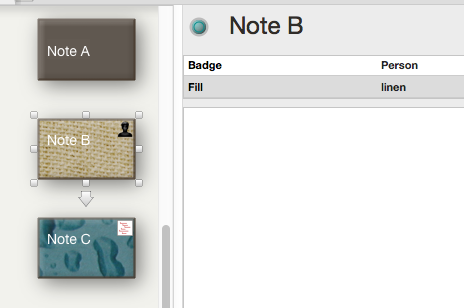 'Note A' is a default note. 'Note B' uses a built-in badge and fill. Note C uses a custom badge and fill. Be aware that a fill image is not scaled and is drawn actual size with the top left of the fill image in the top left of the note's map icon.

Re the fill aspect of scale/resizing, do be aware Tinderbox is not a drawing app. If you've precise image needs, fix those in your image editor of choice and then use the desired output in Tinderbox.

Custom badge folder (PNG files): ~/Library/Application Support/Tinderbox/badges
Custom fill art folder (JPG files):
~/Library/Application Support/Tinderbox/fill

For both the above, when using custom art in $Badge or $Fill use the filename without extension, case insensitively. Thus if the file's name is "droplets.png", use an attribute value of 'droplets' and not 'Droplets' or 'droplets.png'. Unlike image adornment and inline $Text images, badges and fills are not stored as part of the TBX file. If working across, for instance, 2 Macs, you'd need to install any custom badge/fill artwork into the Tinderbox support folders on each of the Macs.