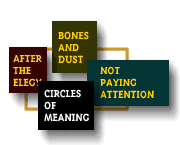 Chasing Tails? Or Tales?
If we take time to look -- if we actually read hypertexts instead of wringing our hands over imaginary threats to our ability to read -- we can learn much about the craft of hypertext.

Hypertext cycles are everywhere. Other patterns and structures are easily seen:
the basements of Cramer's In Small & Large Pieces and Falco's A Dream with Demons
the transient, transitory, temporal spaces of Kendall's A Life Set For Two, Moutlthrop's Hegirascope and Rosenberg's Intergrams
the weaving of time and episode in Joyce's woven Twelve Blue, Larsen's quilted Samplers, Greenberg's Six Sex Scenes in Search Of An Author and Malloy and Marshall's epistolary Forward Anywhere
These, and many more structural motifs, demand study -- not only because the works themselves are admirable, but also because, through care and considerate reading, we will in time understand the meanings of these structures and master their many uses.

If we take the time to look, we can come to see the structures of hypertext. Not mindless fragmentation -- the phantom of the postmodern-baiter -- but the structure of fine scholarship and careful thought, expressed in ways that have not before been possible. Not debased, disneyfied books -- the bogey of those who despise (M)TV and fear the energy of youth -- but writing that takes on the most difficult and pressing issues we face.

Rehearsing uninformed, emotional response to the idea of hypertext is chasing our tail, an energetic romp which we should long ago have outgrown. By studying hypertext, by taking it seriously, we may discover new ways to sing our tales, the matters that matter.