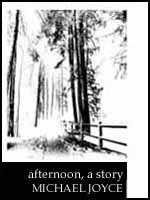 A classic of electronic fiction, afternoon is required reading. Complex and richly imagined, this is the story of Peter, a technical writer who (in one reading) begins his afternoon with a terrible suspicion that the wrecked car he saw hours earlier might have belonged to his former wife:
"I want to say I may have seen my son die this morning."
afternoon is a rich and lyrical exploration of the tangled strands of knowing and memory, the interconnections that bind and unravel the intersecting lives of its postmodern characters.
afternoon was created using Storyspace.
Reviews
 "a graceful and provocative work ... utterly essential to an understanding of this new art form." -- Robert Coover, The New York Times Book Review
"an information age Odyssey" – Pamela McCorduck, Whole Earth Review
"an arresting, intricate, delicately contoured prose sculpture"– Richard Grant, Washington Post Book World
"a benchmark for electronic fiction"– Electronic Entertainment
"[Afternoon] is to the hypertext...interactive novel what the Gutenberg Bible is to publishing." – Toronto Globe and Mail
"One of the first hypertext fictions and still one of the most fascinating. The lyrical intensity of the language lures you through a structure that is simultaneously compelling and perplexing." – Harry Goldstein, Utne Reader