Robert Kendall's poetry has appeared widely in magazines and anthologies, and his first book of poems, A Wandering City, won the 1991 Cleveland State University Poetry Center Prize.
For his work in printed and electronic poetry, Kendall received a 1995 New Jersey State Council on the Arts Fellowship and a New Forms Regional Grant Program Award. In the form of a multimedia installation with original music, his electronic poetry has been exhibited at sites in many cities, including the Franklin Institute in Philadelphia and the Dodge Poetry Festival in Waterloo, New Jersey. A videotape version of the work was shown at the Annual Poetry Video Festival in Chicago and on Manhattan Cable TV.
Kendall has curated an exhibit of digital and interactive artwork for the Painted Bride Art Center in Philadelphia. He teaches hypertext poetry and fiction through the DIAL program of the New School for Social Research in New York, and has written many articles about computers in the arts.
Kendall was born and raised in Canada, sojourned on the American East Coast for fifteen years, and now lives in Menlo Park, California, with his wife and two daughters.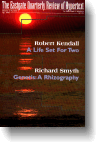 A Life Set for Two
Words and Mirrors: an introduction to A Life Set for Two.