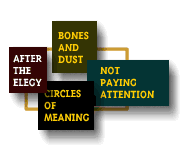 elegies
Sven Birkerts
The Gutenberg Elegies: The Fate of Reading in an Electronic Age
Faber and Faber, 1994

Sven Birkerts' jeremiad, The Gutenberg Elegies, might have been a fine study of hypertext, its achievements and shortcomings. Birkerts is a talented critic and a lyrical writer whose love of books pervades the slender volume.

Unfortunately, Birkerts neglected to read the work he intended to study.

(c) Copyright 1997 by Mark Bernstein. All Rights Reserved.

Eastgate Systems, Inc. 134 Main Street, Watertown MA 02472 USA.
Email:

bernstein@eastgate.com. Phone: (617) 924-9044 (800) 562-1638