Awagami Notebooks
These traditional Japanese notebooks are crafted from traditional, hand-made washi paper by Awagami, one of the oldest paper makers in Japan. They harvest their own kozo and make the paper traditionally, by hand, as a family business.
Washi paper is highly opaque, and unlike more familiar European papers it contains longer fibers that are more randomly-oriented than strongly-grained cotton, rag, and wood-fiber papers.
The 7x4" booklets are exceptionally light, and the paper is acid-free.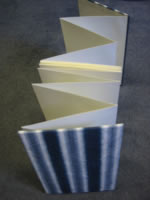 In these orihon journals, the paper is one continuous accordion-folded sheet. The accordion fold is an intriguing change of pace, since it offers a larger canvas for writing or drawing when you need it, and yet remains as compact and convenient as the conventional bound notebook. These notebooks should be of special interest to new media designers as a creative alternative to the familiar travel journal
Located in Yamakawa, in the Tokushima prefecture (Shikoku Island), AWAGAMI is the largest traditional paper mill in Japan and has been owned by the Fujimori family for seven generations. In 1986, Minoru Fujimori was awarded the Sixth Class Order of Merit, deemed a "Sacred Treasure" by the Japanese government. His son, Yoichi, is an acclaimed master papermaker, and his daughter-in-law, Mieko, a paper-dyeing master.
These notebooks are out of stock.