Tinderbox 2.4

New: Tinderbox 2.4.1. Macros are now even faster -- a big help when combining powerful macros and the new Tinderbox rules. Plus, improvements in printing and a variety of fixes.
Tinderbox 2.4 represents a new landmark. With more than 80 improvements, Tinderbox is faster, smoother, and more powerful than ever.
Rules add even more intelligence and flexibility
Sticky and locked adornments make maps easier and smarter
New Tinderbox assistants for web sites and presentations -- including pure CSS sites.
New group operators let your Tinderbox notes keep an eye on their contents and their containers and compute sums and averages on the fly
Outlines look even better on the screen and in print
Popup menus for key attributes speed data entry, reduce mistakes, and improve consistency
For details on all the improvements, simply download the Tinderbox demonstration and check the release notes.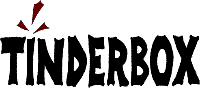 Download Tinderbox now!
"A fantastic tool for interoffice brainstorming, meeting note-taking, or just sitting down to think by yourself" -- Sean Carton, clickZ
"The Weblog Wonder" -- MacWorld (4.5 mice)
"A truly elegant thinking environment" -- David Fultz
"The software I feel like I've been waiting 15 years to have" -- Doug Miller, CTO, iRobotics
The most useful piece of software I have on my PowerBook. -- Rob McNair-Huff, editor, Mac Net Journal
See Tinderbox In Action
Getting started
For making notes
For weblogs
Mastering Tinderbox
User Stories
Training
site licenses
Community
Tinderbox Public File Exchange
Download Tinderbox now!
Syndication
EXCHANGE

Tinderbox Public File Exchange
TINDERBOX

Tinderbox news
"Amazing...clever and elegant." — The Guardian
"Offers innovation driven companies a unique new way to both manipulate and manage ideas visually" -- Robert Ouellette, Boxes and Arrows
Subscribe!
Keep in touch with Tinderbox! Moderated, concise, and timely; we never share your email address.