Things You Can Do
Once you begin to use Tinderbox to gather, understand, preserve, and share notes, you'll find it has dozens of uses.
Plan
You spend lots of time in meetings, and time is money: are you getting your money's worth? Is your company?
What you could do: an actual Tinderbox screenshot taken during an early planning meeting. (See it full size)
Tinderbox can make meetings more productive. Use it to prepare for your next meeting. Skip canned graphics and chartjunk: Tinderbox can help make your point simply and cleanly. It's easy to adapt quickly to suggestions and surprises; if something needs to be moved, just pick it up and move it!
Use Tinderbox for project management and product research. It's the perfect tool for qualitative analysis. Tinderbox maps make a wonderful brainstorming tool, for individuals or for groups. Need to capture a Tinderbox map for a report or publication? Every view lets you copy a picture instantly!
Tinderbox agents will automatically scan and categorize news from your meeting. Then, Tinderbox keeps your meeting notes handy for the next meeting, and you can easily share meeting notes and trip reports with colleagues over the Web.
Understand
You're interested in many things. You read a lot: books, magazines, amail, the Web. You work hard.
Tinderbox helps you keep track of interesting things you learn -- and to remember things you want to pursue later. It's agile and small: you can keep Tinderbox open without slowing down your work. It's a personal content manager.
Imagine
Plotting: Use Tinderbox to keep track of people, places, plans -- whether for business or for art!
Whether you are thinking about the characters of your next novel or the products of your next startup, Tinderbox can help. It's easy to add and link notes, so Tinderbox won't slow you down. Agents can automatically arrange and color-code notes as quickly as you add them. Need to change your mind? Want to explore alternatives? Fast search, unlimited Undo, and a wealth of views and visualizations all help expand your imagination while preserving your ideas.
Remember
When you're on the road, you're bombarded with new experiences and new ideas. And for many of us, travel is one of our best opportunities to pause, reflect, and consider current projects and plans. Whether you're enjoying a well-deserved holiday or en route to a crucial conference, you're bound to find plenty you want to remember.
Tinderbox lets you capture and organize your ideas, impressions, and notes. It's always at your fingertips. Use your digital camera to capture the scene, and let Tinderbox agents keep everything organized. You can easily share notes: you might update your public notes or weblog on a plane or in a park. Just upload to your server when you get to a phone or a cybercafé! And your private notes always stay private.
Tinderbox is great on planes and trains. It's small, agile, and fast: perfect for laptops, and easy on your battery.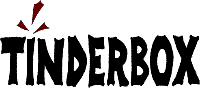 Download Tinderbox now!
"A fantastic tool for interoffice brainstorming, meeting note-taking, or just sitting down to think by yourself" -- Sean Carton, clickZ
"The Weblog Wonder" -- MacWorld (4.5 mice)
"A truly elegant thinking environment" -- David Fultz
"The software I feel like I've been waiting 15 years to have" -- Doug Miller, CTO, iRobotics
The most useful piece of software I have on my PowerBook. -- Rob McNair-Huff, editor, Mac Net Journal
See Tinderbox In Action
Getting started
For making notes
For weblogs
Mastering Tinderbox
User Stories
Training
site licenses
Community
Tinderbox Public File Exchange
Download Tinderbox now!
Syndication
EXCHANGE

Tinderbox Public File Exchange
TINDERBOX

Tinderbox news
"Amazing...clever and elegant." — The Guardian
"Offers innovation driven companies a unique new way to both manipulate and manage ideas visually" -- Robert Ouellette, Boxes and Arrows
Subscribe!
Keep in touch with Tinderbox! Moderated, concise, and timely; we never share your email address.