News about Tinderbox
Tinderbox News has moved.
You'll always find information about the latest features on the Tinderbox Home Page. The Tinderbox Forum is very active, providing help and advice on using Tinderbox for everything from plotting a novel to tracking a prospect list or prosecuting a case. The Tinderbox Wiki has lots of wisdom on finding the best ways to use Tinderbox.
You'll also find interesting Tinderbox ideas at the weblog of Tinderbox designer Mark Bernstein.
Sometimes, it's the details that count. This release is all about the details. Better date formatting. Faster updating. More robust XML. Get the update today.
Jack Baty explores the new features of Tinderbox 4.5, and describes how he uses the new features to keep track of film reviews complete with drop shadows that reflect the film's rating and his daily weight with an automatically-updated plot of the fluctuations.
Michael Bywater sends a wonderful appreciation of Tinderbox 4.5, complete with references to buzzards, steampunk, soulsucker bombs, and emergent structure.
Tinderbox 4.5 is now available. Some comments:
The changes to Tinderbox 4.5 (from 4.2.3) are just what the doctor (of philosophy) ordered. I find Tinderbox indispensable for my work and every update makes it that much more mind-blowing. -- Johnnie Wilcox, San Francisco
I suspect this new version of Tinderbox will be the mose useful for me yet please do a screencast of the new features! Tom Webster, Edison Research
Whoa! Word-wrap in outlines - nice! Whoa #2 - in-place outline editing, very nice! Maybe I should finish reading the release notes before issuing further kudos :) Les Orchard
Combined with greatly improved tools for searching and visualizing outlines and maps, the new in-line editing mode for outlines opens up Tinderbox as a robust and facile tool for organizing and writing manuscripts and presentations. Warren Beck, Michigan State University
Tinderbox has crossed a wonderful new tipping point of power and usability. Russ Lipton, Spokane WA
A new screencast from Mark Bernstein on how one might begin to plan a book with Tinderbox. Longer and more detailed looks at notes, adornments, idea maps, and agents but still quite elementary. In Screencasts.
Tinderbox 4.2.3 is now available. Free to everyone who has purchased or updated in the past year. You can upgrade to Tinderbox 4.2.3 from any version of Tinderbox for just $90. Order it here.
The old (but beloved) Presentation Assistant tool, which helps you build attractive slide presentations in Tinderbox that can be viewed or projected in any Web browser, has been updated to work with Tinderbox 4. See the Tinderbox File Exchange to download it.
We have dates for the Fall 2007 Tinderbox Weekends.
Boston: November 17-18
San Francisco: December 1-2
Earl Moore writes a detailed discussion in Meandering Passage on Tinderbox: My Blogging Factory.
His first point is one too seldom mentioned when we talk about weblogs: the place you need the computer to help isn't in designing the page or serving it. We need help with the hard part of blogging: writing. Moore uses WordPress for his weblog. What he needed, and built with Tinderbox, was a tool to keep track of what he was researching, what he was writing, and what he was blogging:
It needed to show a progression of the process.
It needed to be visual using colors, grouping and locations so as to convey at a glance the current status of any items.
It had to be simple.
It had to be efficient. There should be enough automation to make it easier to use then not.
Moore literally builds an idea factory, with adornments for Receiving, Manufacturing, Packing, and Shipping. New ideas and links go to the adornment labeled "Receiving", which adds some metadata to mark status and timestamps. When it's time to start an article, the parts are dragged into the Manuifacturing Department. Finished articles go to Packing Moore, a manufacturing veteran, calls it "pre-staging" where they are held for at least 24 hours, giving time for editorial review and second thoughts. Then, on to Shipping and the queue for posting to the Web.
Tinderbox's spatial mapping and color coding help make relationships clear without getting in the way of the unpredictable process of research and writing. Small assistants are easy to add as well; for example, Moore wants to add an agent to the Packing Department that will set an alarm if an article has been waiting for more than 24 hours. "I like," Moore concludes, "that Tinderbox encourages you to think about your data, and provides the tools to let you look at it your way.")
Tinderbox 4 adds badges in maps and outlines. Badges are small symbols or icons can be used to distinguish special notes or to add a new visualization dimension. Tinderbox comes with a portfolio of fifty nice icons: "calendar", "home", "people", "camera", "database" and so forth.
You can select badges with contextual menus. Badges can be inherited from prototypes, and they can be chosen automatically by agents, actions, or rules. So, instead of just flagging notes, you have a rich vocabulary of flags that you can add yourself or that Tinderbox can add for you.
This is why we emphasize that Tinderbox is a personal content assistant. Automate the tasks you want Tinderbox to handle, or do things yourself: it's up to you.
You can even redefine the visual symbols or add new badges by dropping .icns files in ~/Library/Application Support/Tinderbox/badges.
Badges add (literally) a new dimension for visualizing relationships among notes. Just as important, you don't have to choose every badge; I expect that most of the time, people will let badges be set by agents or inherited from prototypes.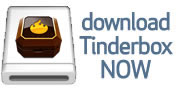 for Mac OS X. What's new? ❧ More download options.
Tinderbox for you, for your team, or your enterprise. Plus upgrades, The Tinderbox Way, and more. Order here. 
Upgrades from any previous version of Tinderbox are just $98.
Twig
Twig is a swift and agile tool for gathering and cultivating your ideas. Now in preview — and just $79!
Learn About Tinderbox
Application Notes
Using Tinderbox
Syndication
EXCHANGE

Tinderbox Public File Exchange
TINDERBOX

Tinderbox news
Subscribe!
Keep in touch with Tinderbox! Moderated, concise, and timely; we never share your email address.