Tinderbox 3.0

Hot: what's brand-new
Tinderbox 3.0.6 improves the zoom-in animation in Tinderbox maps, adds a convenient command to bring all Tinderbox windows to the front, and makes some HTML Export elements more consistent and intuitive.
Tinderbox 3.0.5 adds a raft of small refinements, and some key new technology for the forthcoming Tinderbox for Windows.
In addition, Tinderbox 3.0.5 has some small but nice new additions:
Link drawing in maps is smoother and neater
Link types give you more options for drawing and hiding links and link labels
Setting prototypes for adornments is much easier (and surprisingly useful!)
New Edit menu commands let you insert the current date and time in notes
Lots of minor refinements (see the release notes for details)

Tinderbox 3.0
Seventy-seven new improvements add up to 77 reasons that Tinderbox 3 is the tool for notes. Upgrades are free if you purchased Tinderbox within the past year, or get Tinderbox 3 and a full year of free upgrades for just $90..
Powerful new rules and actions, including calculations, let you build smarter Tinderbox environments that help your work organize itself
Better outlining
Adjustable tab stops
New query extensions
Faster and more powerful HTML export templates
Create and rearrange key attributes by drag and drop
Tinderbox 3.0 features a fast new parser for streamlining rules, actions, and templates, making it faster and more powerful than ever. The new parsers lay the foundation for Flint, a terrific new Web template assistant that's coming soon, and clear the way for Tinderbox for Windows,
For details on all the improvements, simply download the Tinderbox demonstration and check the release notes.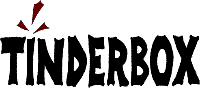 Download Tinderbox now!
"A fantastic tool for interoffice brainstorming, meeting note-taking, or just sitting down to think by yourself" -- Sean Carton, clickZ
"The Weblog Wonder" -- MacWorld (4.5 mice)
"A truly elegant thinking environment" -- David Fultz
"The software I feel like I've been waiting 15 years to have" -- Doug Miller, CTO, iRobotics
The most useful piece of software I have on my PowerBook. -- Rob McNair-Huff, editor, Mac Net Journal
See Tinderbox In Action
Getting started
For making notes
For weblogs
Mastering Tinderbox
User Stories
Training
site licenses
Community
Tinderbox Public File Exchange
Download Tinderbox now!
Syndication
EXCHANGE

Tinderbox Public File Exchange
TINDERBOX

Tinderbox news
"Amazing...clever and elegant." — The Guardian
"Offers innovation driven companies a unique new way to both manipulate and manage ideas visually" -- Robert Ouellette, Boxes and Arrows
Subscribe!
Keep in touch with Tinderbox! Moderated, concise, and timely; we never share your email address.