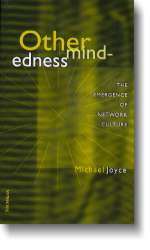 Following on his influential collection of essays, Of Two Minds, Michael Joyce's Othermindedness is suffused by Joyce's lyrical intensity and intellectual depth. This challenging volume contains Joyce's latest arguments on hypertext, MOOs, Web literature, and other manifestations of network culture.
In addition to much new material, Othermindedness collects Joyce's indispensible essay, "Nonce upon Some Times: Rereading Hypertext Fiction" -- a previously hard-to-find study that is one of the foundations for the study of hypertext patterns. Other chapters include:
MOO or Mistakenness
Neyond Next before You Once Again: Repossessing and Renewing Electronic Culture
On Boundfulness: The Space of Hypertext Bodies
Paris Again or Prague: Who Will Save Lit from Com?
Portrait of the Artist as a Search Engine Entity
Michael Joyce is the author of afternoon, a story, the classic (and best-selling) hypertext fiction that remains "the most widely read, quoted, and critiqued of all hypertext narratives" (New York Times Book Review), and of Twilight: a Symphony. Joyce was one of the original designers of the Storyspace hypertext writing environment. Joyce is currently Associate Professor of English and Director of the Center for Electronic Learning and Teaching at Vassar College.
Othermindedness: The emergence of network culture
by Michael Joyce
University of Michigan Press
ISBN 0-472-11082-9 (hardcover) ..... $34.50