"A surprising achievement in hypertext fiction....Deena Larsen shows a mastery of very different styles through the nine short fictions and a remarkable ability to build characters and atmospheres, but the best of Samplers is the deep understanding of how to structure fiction" Hipertulia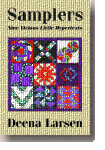 Nine richly imagined works make up this sampler quilt of hypertext. Stories of spirits returned to haunt the living, of memories that stubbornly refuse to fade, and of children far wiser than their parents.

The hypertext structure of Crossed Ends resembles a quilt pattern. At the center, a retirement party focuses the disintegration of a family.

The hypertext structure of each story recalls a traditional quilting pattern. In Crossed Ends, for example, Charles Goodwine's retirement party begins the unraveling of his family. The hypertext pieces together the family story, as the family itself is torn apart.
In Interlocked, Larsen explores how sexuality and fear connect through the years. In Conventions, Leah and Claire, once best friends, meet in a convent garden, separated by years and by the cloister walls. In Mystic Knot, a traffic barrier in Golden Gate Park wakes up and finds itself. In Century Cross, a technical writer pulls an all-nighter at her government office building, and meets a force even more frightening and capricious than memos from Washington.
Finely written and intricately structured, Samplers breaks new ground for short hypertext fiction.
Deena Larsen is the author of Marble Springs, the widely-acclaimed historical hypertext of the women who built the American frontier. She is also editor of The Collected Hypertext Poetry of William Dickey, forthcoming from Eastgate.
System Requirements: This title runs on Mac OS X 10.3 through 10.6, and on 32-bit installations of Windows 7, Vista, and XP. It is not yet compatible with Mac OS X Lion or 64-bit Windows 7. Updates are expected shortly.
Samplers: Nine Vicious Little Hypertext
by Deena Larsen
ISBN 1-884511-30-9
for Macintosh or Windows ... $24.95

We Descend by Bill Bly.


Previous Page

---
---