"In Strickland's case, erudite is a term of praise. For ideas and facts stud her poetry like so many gleaming jewels, yet they never tarnish the gold of human experience from which the poems are wrought. Take the trope of the title poem, for instance: beginning with the difference between magnetic and true north, Strickland launches into an exploration of the forces of love, until the metaphor links science and the heart so tightly that they are inseparable." -- Patricia Monoghan, Booklist
"An uncommon set of precise, intellectual, and compassionate poems concerning mothers and Connecticut, history and folklore, science and poetry, Willard Gibbs and Emily Dickinson -- rendered all the richer through the fascinating hypertext links and color-coded words and sections." -- Michael Groden, co-editor of The Johns Hopkins Guide to Literary Theory and Criticism
"A quintessentially American piece. . . . The poetry is arresting, to eye and mind, each text a fitted niche in itself. Here is a perception of the world filtered through the lenses of contemporary science, but with such an elegant, incisive way of rendering, not only this world, but a sense of it, a spin on it, a spiraling out from it, into perceptions, feelings, and an encompassing geo-ecological moral outlook." -Paul Harris, Loyola Marymount University

Award-winning poet Stephanie Strickland sweeps poetry and hypertext, tumbling ideas, histories, numbers, maps, and legends into a passionate meditation on navigation - on all that is involved in finding "true" north.

Transmuting worlds, lives, and idioms into a powerful whole, Strickland brings together Bell's Theorem, quaternions, Noah Webster, Mother Goose, laser gyroscopes, the lives of Emily Dickinson and Josiah Willard Gibbs, the Amistad mutiny, and the MX missile, to tap a human voice deep within universal abstraction.
A print version of True North was awarded both the 1997 Ernest Sandeen Poetry Prize and the Alice Fay di Castagnola Award from the Poetry Society of America.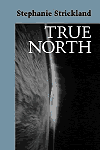 "TRUE NORTH is a profound meditation on history and geography, time and eternity, number and a state beyond number. It is a superb book but as a cybertext it is even more effective. As the eye moves from line to line and color to color, one realizes that the planetary movement described in the poetic sequences is actually being SHOWN...Eastgate Systems has done a beautiful job in rendering words as images, words in all their graphic materiality. Here form really is content, and content is form." -- Marjorie Perloff, Stanford University
True North was created using Storyspace.
True North
by Stephanie Strickland
ISBN 1-884511-36-8
For Macintosh or Windows ..... $24.95

About the author:
Stephanie Strickland


Don't miss:
A Life Set For Two by Robert Kendall.

Coming Soon: Behind The Lines, edited by Diane Greco, collects exciting new hypertext poetry.

---
---