A Life Set for Two "the movement of the text...the passionate sadness and the playfulness combine to create this effective and moving word collage." -- Maria Mazziotti Gillan

"Finally, we have the ideal environment for reading a poem whose companionship we do not want to lose . . . . [a] source of language, faithful to poetry's formal structure, offering a renewing story with unfolding secrets. . . . A truly beautiful passage of meditation and humor." -- Grace Cavalieri

The "hypertextual dynamics" with which Kendall programs A Life creates a second-generation of hypertext specifically for this poem.... It gives the reader a wonderfully high level of choice and interactivity without diminishing the vision and voice of the poet. -- Holly M. Franking, Switched-On Gutenberg
A Life Set for Two
by Robert Kendall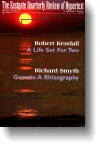 Welcome to Café Passé. In this bizarre restaurant, acclaimed poet Robert Kendall sets a table where reminders of lost love linger everywhere. Choose your reading to suit your appetite: among the many delectable choices from the menu are:
Prison Rations
Naughty Treats
Manna From The Stars
Dainties Under Glass
Place a retrospective order and discover how regret, desire, bitterness and memory feed on dreams. Don't forget to leave room for dessert!

For Windows only.
Genetis
by Richard Smyth
Art and design by Roy Parkhurst, music by Webster Earl Williams, Jr.

In the style of what Gregory Ulmer calls the mystory, Richard Smyth uses the genre-defying capabilities of hypertext to present a case for the power of writing in desperate circumstances. After the narrator's mental meltdown on his honeymoon, he learns that only writing has the power to salvage his sanity and his life.

The Eastgate Quarterly Review of Hypertext
Volume 2, Number 4
ISBN 1-884511-32-5
Macintosh (in part) and Windows ..... $24.95


About the author:
Robert Kendall
Richard Smyth





Words and Mirrors: an introduction to A Life Set for Two.



Don't miss:
Twilight, A Symphony by Michael Joyce.

Previous Page
---
---