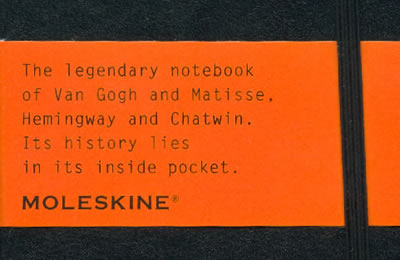 The perfect companion to Tinderbox! These notebooks are finely crafted for use -- not just for show.
The favorite notebook of writers from Hemingway to Chatwin, each Moleskine has a durable sewn binding and rigid, waterproof fabric cover. A built-in elastic closure secures the cover in your pocket or pack. A sewn-in ribbon placeholder opens the book immediately to the page you're writing. And an accordion pocket holds tickets stubs, clippings, receipts -- whatever you need.
Moleskines are filled with fine Italian paper. The paper is superb for writing on planes, trains, cars, and cafes -- wherever you need to write. And it's acid-free, for which your grandchildren will thank you.
Many Tinderbox users have written to us to tell us about using Tinderbox with their Moleskines. Now, direct from their Italian maker, we can send you your own Moleskine notebooks -- at an outstanding price.