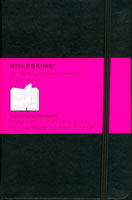 These durable and well-made Italian Moleskine notebooks are filled with heavy, acid-free paper that is lightly ruled with storyboard frames -- perfect for sketching narrative ideas for new media. Some pages have 2 frames per page, others have 4 frames. The rules are light -- you can draw outside the box -- and graceful. The paper is perfect for writers -- smooth, solid, elegant, and durable.
The Moleskine storbyoard notebook includes all the thoughtful little features that have made the classic Moleskine such a popular accoutrement for Tinderbox:
elastic band keeps the book closed in your pocket, bag, or pack
integral fabric ribbon keeps your place
sewn binding holds up to heavy use
expandable inner pocket holds tickets, receipts, and ephemera
The perfect travel journal for visual thinking, these notebooks are ideal for Tinderbox users who can't always have their Tinderbox close at hand.