Small cases and small practices have big information needs
Summary Judgment
Veteran attorney Stephen M. Winnick handles trial and appellate cases, many of which have created new precedent in multiple jurisdictions. These cases require the ability to manipulate and analyze large quantities of data.
Winnick has built a comprehensive Tinderbox system to deal with the demands of complex and unpredictable cases. He uses a single Tinderbox document for each case file to organize all of the information from intake to appeal. "None of this would be possible without Tinderbox," he explains. "I don't think anyone has done what I'm doing here."
This framework, called Summary Judgement®, can apply to almost any type of law practice. "The idea is that when you open Summary Judgement, you have everything a lawyer needs, from start to finish," he says, opening a new case file that is already populated with an impressive outline.
Summary Judgement uses a series of Tinderbox prototypes, which Winnick likens to blank forms that lawyers keep on hand. "When the client comes in, we begin with the case file intake. So what I've done is put key attributes at the top of each form to populate each note with the basic, generic information." This not only saves time and typing, but it serves as a useful reminder to collect all of the relevant information during the intake process.
Information from the intake form is automatically propagated to other forms in various parts of the outline. "This is very powerful," he notes. "Communications are broken down into clients, opposing parties, and third parties. You can immediately find when you've had these events and communications. At the same time, you can keep track of activities—meetings, court appearances, agency appearances."
The way we did invoices in the past, it would take hours to accomplish.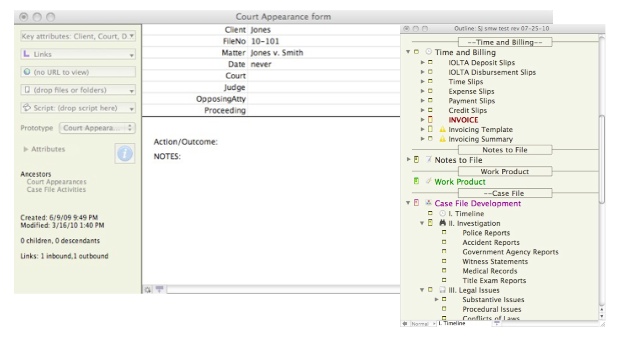 Communications and activities are then translated into time slips for billing. "The way we did invoices in the past, it would take hours to accomplish." With the click of a button, a beautifully formatted invoice appears on the screen. "Now I just enter the boilerplate info—the client's name, address, and so forth—and an agent picks up all of the time slips, a template combines everything, and I have an invoice that just looks wonderful."
A natural teaching tool and clear road map
"The real workhorse, of Summary Judgment" Winnick continues, "is the Case File Development Section. This is where the real legal work takes place." The section includes handling of timelines, evidence, and legal precedents. "You really have all of the steps a lawyer takes in developing his or her case. Summary Judgment has a number of features that are especially powerful for law students, and for less experienced lawyers . The Summary Judgment outline itself is a natural teaching tool and clear road map of how an experienced lawyer would think through, organize and manage a case from start to finish."
Winnick says he couldn't be happier with his work flow in Tinderbox. "I am presently using SJ in a breach of contract litigation in which there are literally hundreds of emails between the parties, as well as other forms of correspondence and writings.  
As the discovery materials came in, all of  these documents were readily organized, reviewed for relevance, and finally pared down into manageable proof using Summary Judgment. The powerful retrieval features of the Tinderbox platform and its unique case mapping capabilities allow a level of organization, analysis, and presentation unmatched by any other case management tool available today."
The law practice of Winnick & Sullivan LLP is based in Watertown, Massachusetts. Winnick is a member of the state bars of Massachusetts and Florida; the federal bars of the U.S. Supreme Court, the U.S. Court of Appeals for the First Circuit, the U.S. District Court for the District of Massachusetts and Southern District of Florida, and the U.S. Claims Court. For more information on Summary Judgment , see the Summary Judgment Blog or contact Winnick at winvictus@winnlaw.com.
DIscuss Tinderbox for litigation and case management in the Tinderbox Forum.