email and Twitter
tasks and todos
Art Education
Prof. Pamela G. Taylor, who chairs the Department of Art Education at Virginia Commonwealth University and who is editor of Art Education, relies on Tinderbox for organizing research for publication. "This screen shot," she says, "is a Tinderbox file that is assisting me in the writing of a new book.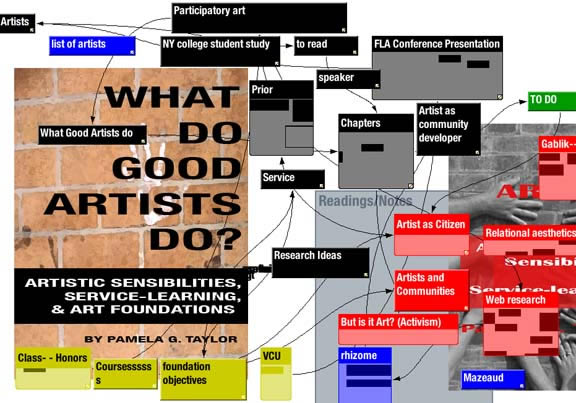 Tinderbox is great for brainstorming and reflection, but it also makes an interesting tool for working creatively with colleagues. "Below is a screen shot of a collaborative project." she continues. "The resulting manuscript became Taylor, P. G., Wilder, S., and Helms, E. (in press) Walking with a Ghost: Music videos and re-performing the body, International Journal of Educations and the Arts."
Tinderbox can help illuminate ideas early in the process of research. Here, Prof. Taylor is "just beginning" a new project. "Pasting images of the art and music videos in the background helps me organize readings, ideas, and thoughts. And the process of linking assists me in formulating my primary research questions."
Tinderbox is at home in the classroom as well as the scholar's study. Here, for example, is a view of a Tinderbox document Taylor put together as a Unit of Instruction for teaching art in middle school.