email and Twitter
tasks and todos
Forensic Psychiatry
In his Spring 2007 presentation at Tinderbox Weekend Cambridge, Dr. Fionnbar Lenihan observed that his work can exemplify Extreme Bureaucracy. At the Orchard Clinic Medium Secure Unit of the Royal Edinburgh Hospital, his work centers on three concerns:
Psychiatric assessment of those in custody or awaiting trial

For clinical reasons, e.g. concerns they may harm themselves
For legal reasons, e.g. fitness to plead

Advice to course regarding fitness to plead, insanity defense, and disposition
Clinical management and rehabilitation of mentally disordered offenders in hospital and on to the community, involving both the care of the individual patient and the assessment and management of any risks they might pose to others
In practice, medium security units are a crossroads. Some patients are moving from low security units, others people are moving down from higher security, and still others are en route to a return to the community. All these movements need to be legally defensible, and defensible in terms of risk assessment. Decisions need to be based on evidence, and a recommendation needs to remain linked to the information on which it was based.
The Problem
The forensic psychiatrist, then, confronts a great deal of information. In many cases, case notes and police reports have accumulated over many years. Information is frequently stored in aging paper files, and is seldom well organized. Much of the information is redundant, some of it is wrong, and very little of it is well referenced or effectively indexed.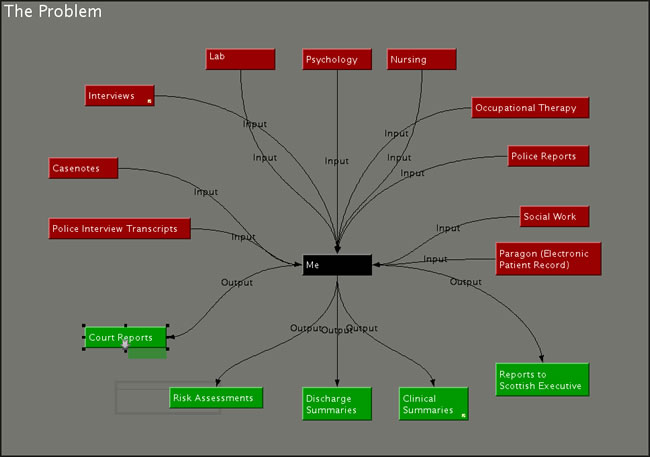 The Solution (so far)
In the early stages of a case, Dr. Lenihan finds it ideal to take notes directly in Tinderbox. In practice, though, many notes are first written on paper and are later copied into Tinderbox. At this stage, he observes, notes "tend to be a bit over-inclusive. The relevance of a piece of information is not always apparent, until you see it in the context of other information. It is particularly useful, though, to make each note atomic, referring to a discrete clinical observation; this helps agents and search work more effectively, and also improves information reuse while reducing redundancy.
Prototypes help save time and reduce redundancy as well. In fact, Dr. Lenihan says, if any source document looks like it will be a source of a number of notes, he makes it a prototype. This ensures that metadata such as the source of the observation and its date will be automatically filled in, and makes it easy to update incomplete or incorrect metadata whenever the problem is discovered. Since notes inherit information from their prototype, one update can correct many notes.
The initial note scheme kept only the simplest metadata:
the source document
the source document date
the timeline date (the date of the incident then being pursued)
But Tinderbox makes it easy to add attributes as they are needed, rather than asking you to anticipate in advance what data you might conceivably need. In time, a host of new attributes emerge which relate the notes relevance to various parts of the psychiatric report or risk assessment. All these attributes are visible, and editable, in Tinderbox's Explorer view.
Agents, in turn, extract the information needed for different studies and reports. A timeline report gathers specific notes, while the conventional report follows established workflow processes and an HCR-20 report details risk assessment information
The variety of reports can be formidable.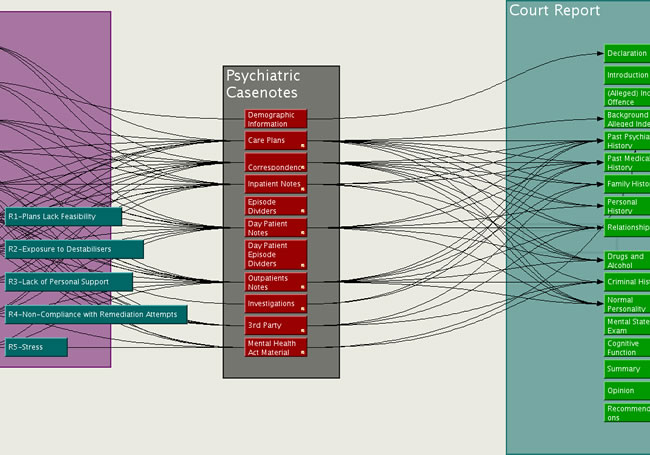 The timeline report was initially intended as merely an intermediate step, arranging all events according to their date. But this timeline, easily constructed in Tinderbox, has proved useful in itself, providing a fresh perspective, demonstrating temporal relationships that might otherwise be overlooked, and remaining profession-neutral.
Other reports could in principle be created through HTML export to Microsoft Word, but Dr. Lenihan found the process of coaxing the process to conform to layout and style requirements somewhat "fiddly and difficult". He now prefers to dictate reports from his Tinderbox screen to audiotape, allowing his secretary to prepare the document for court. "Oddly effective," he observes. "Jumping around in the Tinderbox document in Explorer view is much better than trying to manage stacks of paper notes. It's easy to follow links and convert them to the appropriate verbal reference in the text: 'According to the report of Constable X'. I was wasting a lot of time editing reports to final quality; it's much faster to dictate and let the secretary do the heavy lifting. A good division of labour the secretary is a much faster typist than I.
In my own (entirely anecdotal) experience, reports compiled using Tinderbox tend to be better structured, more comprehensive, and better referenced. But, they are also longer. Is this due to Tinderbox's management prowess? Or due to the fact that, using Tinderbox, one has mentally handled the information more?