A Special Offer For Shawn Blanc Fans
This special offer is now concluded. To learn about new offers and special opportunities, please subscribe to the Eastgate-List. We never share your email address.
Subscribe!
Keep in touch with the artisanal software festival! Concise, and timely; we never share your email address.
We're big fans of Shawn Blanc, and of the wonderful Tools and Toys. And as the annual Tools and Toys Gift Guide reminds us (along with the first New England snow, now falling outside our windows), there's a lot to get done this year. We've got software to write, books to edit, gifts to plan, and plans to make. What have you got on your plate?
If you work with challenging ideas, we think Tinderbox is a tool you need. Tinderbox is the tool for notes — a wonderful approach for visualizing, analyzing, and sharing your important ideas.
"For the past eight days, I have spent most of my waking hours using Tinderbox Six. I am using it to analyse a small eighteenth-century epistle ..in preparation for a presentation to be delivered at a conference this coming Wednesday. As I recently told a few colleagues, this type of textual analysis, and the speed at which I am able to execute it, would have otherwise been impossible without a small team of personal research assistants. — a researcher at Oxford University"
Whether you want to get things done or to plan your next book, to design a new curriculum or release a new product, Tinderbox gives you powerful tools do capture ideas, organize them, and discover emergent structure.
Tinderbox has an amazing user community, and even a backstage program for people eager to watch as the software takes shape. Here's one example, a user's short movie that James Fallows called "Combo: 'The 400 Blows' + tech manual".
Tinderbox Six is just out, with a host of exciting new capabilities.
We think you'll find Tinderbox to be a a great example of serious, artisanal software — hand-crafted with intelligence and care, and designed for serious work.
"Fantastically useful" — S. Irene Virbila, L.A. Times food critic
"I use [Tinderbox] every day" – James Fallows, The Atlantic Monthly and author of China Airborne
This week, we're offering a $50 discount to readers of ShawnBlanc.net.
And we're also offering $5 off on The Tinderbox Way, Mark Bernstein's book on the ideas behind Tinderbox. The Tinderbox Way takes a new look at the way computers can help ideas (and their representation) evolve over the course of months and years. With chapters on agents, dashboards, and why Tinderbox (sometimes) needs complexity, it's a unique look at a unique program.
Plan your work and organize your time the way you want. Tinderbox maps help you see emergent structure without imposing rigid hierarchies or arbitrary methodologies.
Tinderbox outlines can sort and reorganize themselves, and its flexible attribute browser lets you explore your notes, revealing new insights. Links make sure that vital connections stay connected.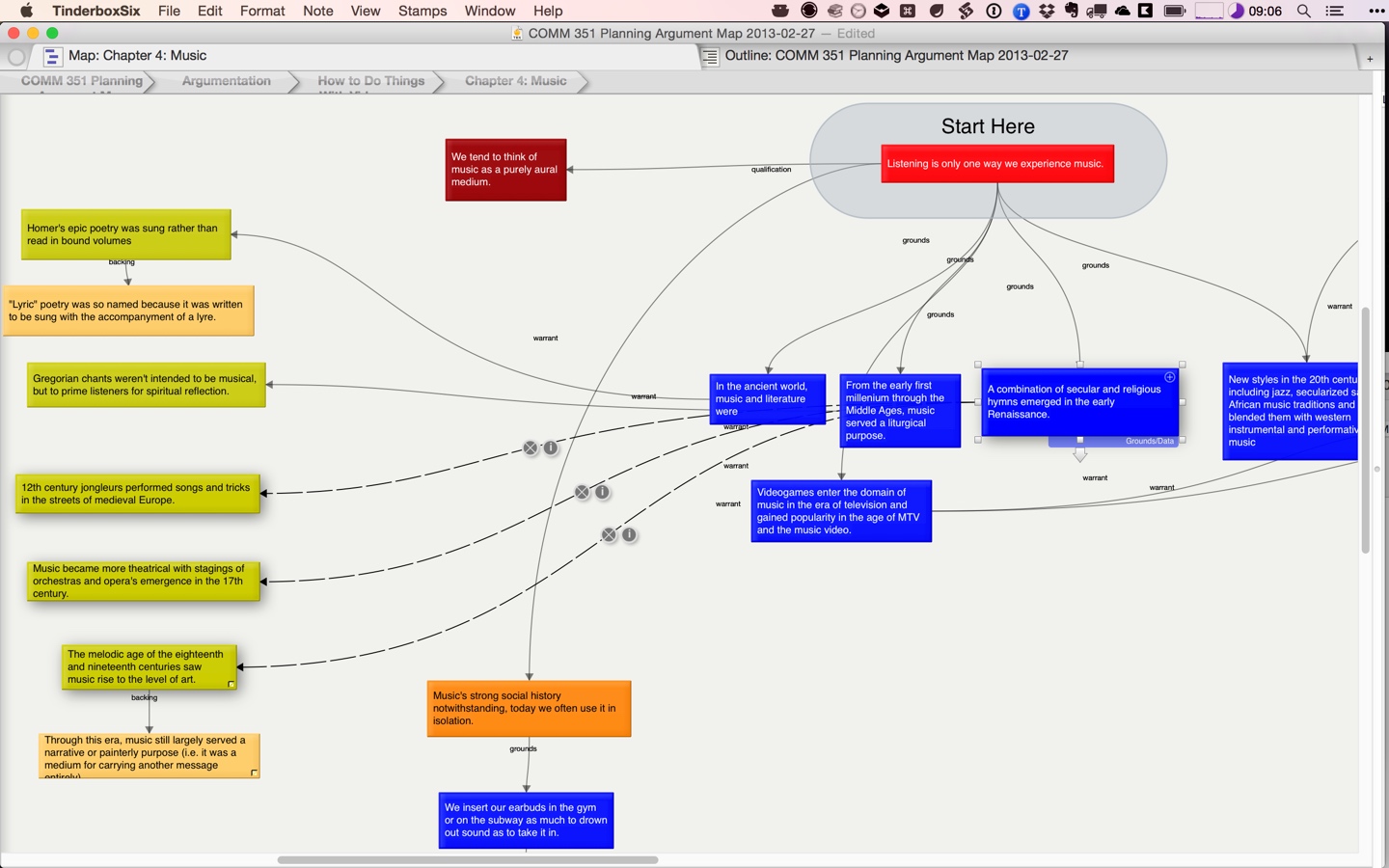 Tinderbox maps can be ideal tools for visualizing complex arguments, dissecting their structure and understanding there weaknesses.