Intertwingled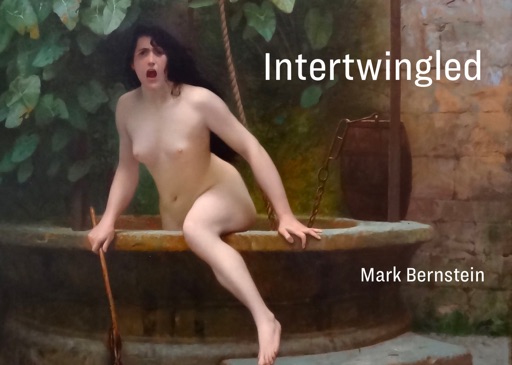 Table Of Contents
Better Than Books
We're All Working For The Pharaoh
Slaves Of Steel
Minnesota Nice
Writing The Unspeakable
Quarterly: Some Reflections
Style
Systems
Ophelia In My Pocket
Hypertext In The Age Of Trump
References
---
Critical observations of the state of our networks and our literary culture from a veteran researcher and critic, with observations on new media research ("We're all working for Pharaoh") , wickedness ("Slaves Of Steel"), and politics ("Minnesota Nice"; "Hypertext In The Age Of Trump"). Ranges from practical advice for campaigning in an era when people don't answer the door to speculative fiction about a real holodeck on a real starship ("Ophelia In My Pocket").
From Chapter One:

We now know that the future of serious writing lies on the computer's screen, and that writing for the screen means writing with links. Economics, technology, and our dire circumstances converge to make hypertext essential to our future, if we are to enjoy a future.

We know far too little about the craft of hypertext.

Our planet is burning. Our electronic networks, one of the crowning glories of our civilization, are crammed with the ravings of fools and the counsels of con men. Many of our governments are controlled by senile knaves or irrational zealots. Many of our best young researchers dedicate themselves, knowingly or otherwise, to those who subvert and deny science, in the (usually vain) hope of attracting the notice of a handful of platform vendors who might hire them.

These notes were written for the 30th ACM Conference on Hypertext and Social Media. I was at the first ACM Hypertext Conference, Hypertext '87. I've attended many of the thirty subsequent conferences. I build tools for writers and researchers, and have spent many years studying, publishing, and writing hypertexts. There remains much to learn about hypertext. Nevertheless, most web professionals, practitioners of digital storytelling, technical writers and game designers now believe that hypertext is a solved problem that has been without much interest for many years.

I think much remains to be learned.
Mark Bernstein
Intertwingled
Eastgate Systems, Inc. 2019. 129 pages.
isbn 1-8845-1156-2