Tinderbox Weekend Archives
---
London: May 8-9, 2010
At the Rookery Hotel, Peter's Lane, Cowcross Street, London, EC1M 6DS. (Map) (The nearest subway station is Farringdon, two minutes walk away.)
Incremental Formalization (Stacey Mason)
Towards A Grammar of Tinderbox Maps (Mark Bernstein)
Emberlight (J. Nathan Matias)
Robert Brook
Writing a Broadway Musical (Michael Bywater)
Mark Anderson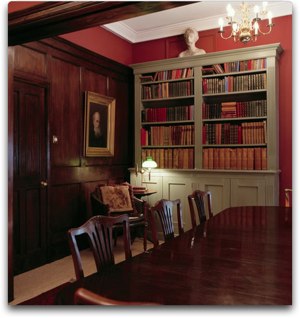 We'll be meeting in the Drawing Room. We start promptly at 10am on Saturday.
BOSTON: March 13-14, 2010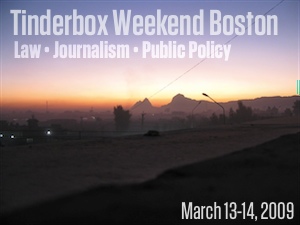 Theme: Tinderbox for Law, Journalism, and Public Policy
Scheduled speakers include:
Alex Strick van Linschoten and Felix Kuehn: Terrorists and Talibs — How To Handle The Networks with Tinderbox
Stacey Mason: Secrets of Tinderbox
John Stephan: Tinderbox and Litigation
Steve Winnick: Summary Judgment — Tinderbox and Case Management
Mark Bernstein: Getting More From Tinderbox Maps
Tom Lowe: Statutory Interpretation – Graphical and Textual Representations as an Aid to Learning and Practice
Mark Anderson: Complex Networks and the Afghan COIN Map
Previously: San Francisco, CA
November 21-22, 2009
Planned sessions include
More Effective Tinderbox Maps: Frontiers (Mark Bernstein)
Tinderbox In And Out of Court: One Judge's Approach (Hon. Thomas Smith)
Tom Webster (Edison Research): Necessary Tangents: An Organic Inquiry into Consumer Behavior with Tinderbox
Integrating Tinderbox with your iPhone (Dr. Jonathan Leavitt)
Understanding Tinderbox Agents (Mark Anderson, Shoantel)
Tinderbox 5 and Beyond (Mark Bernstein)
Previously: Tinderbox Weekend London
London, England: May 9-10, 2009
Featuring:
Mark Bernstein: Dashboards, Timelines, and Cookbooks
Robert Brook: Delivering Public Information
Mark Anderson: Tinderbox Export
Michael Bywater: Plotting a novel in Tinderbox
J. Nathan Matias: Collaborative Tinderbox
Rookery Hotel, Peter's Lane, Cowcross Street, London, EC1M 6DS. We start promptly at 10am on Saturday.
Previously: Tinderbox Weekend San Francisco
At the Hotel Rex, 562 Sutter Street
Tinderbox designer Mark Bernstein
Doug Miller: Using Tinderbox to Support Web Application Development (Tinderbox and Rails: cool!)
Cathy Marshall: Roots of Spatial Hypertext
Michael P. Fitzhugh: Tinderbox Noting The News
Rosemary Simpson (Brown University): Hypertext '07 A Virtual Trip Report In Tinderbox
Bill Humphries (Linden Labs): Tinderbox and Second Life
Greg Ibendahl (Mississippi State): Project Management with Tinderbox: A Visual Approach
Previously: Boston, Massachussets
November 17-18, 2007
Focus: Tinderbox for writers and film makers
Tinderbox designer Mark Bernstein
Sarah Smith (author of King of Space, The Vanished Child, Chasing Shakespeares) on Tinderbox and plotting
Bill Bly (author of We Descend) on "Tinderbox and managing my writing life"
John M. Stephan: The Tinderbox Cast of Characters in Nonfiction and Fiction
Matt Griffin: Tinderbox On Location
Previously: Cambridge, England
April 21-22, 2007
Focus: Research and Writing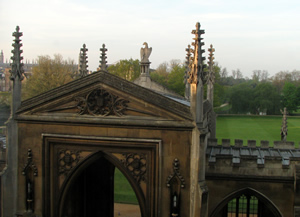 This Tinderbox weekend will focus on using Tinderbox for research, writing, and scholarship from planning and brainstorming to document export. We'll range broadly across Tinderbox features, from planning with maps and outlines to designing networks of collaborative agents.
Well explore new Tinderbox feature of special interest in research, including access to external resources, set attributes, using stamps for qualitative analysis. Well also examine Tinderbox export to the Web and to print. Tinderbox stretchtext and other advanced techniques will be made simple.
Included in the course materials will be Mark Bernstein's new volume, The Tinderbox Way, a 240-page book that explores Tinderbox from the foundations of its design to the latest techniques and practices for using Tinderbox to make, analyze, and share notes.
The weekend will include plenty of material for people new to Tinderbox, and well have lots of examples of Tinderbox applications in diverse fields. (Speakers are subject to change)