Tinderbox 5.8
The Thought-Crafters' Release
Upgrade
Upgrade from any previous version of Tinderbox. $98
Tinderbox
Tinderbox 9.5.2 for Macintosh. $289
Tinderbox 5.8 brings new power to Tinderbox agents and actions, making it easier to let your Tinderbox documents organize themselves. It's easier than ever to get started with Tinderbox – just open a Map or Outline and start making notes. As your projects grow, you can add agents and actions that automate routine chores, add missing metadata, and highlight your most interesting and important notes.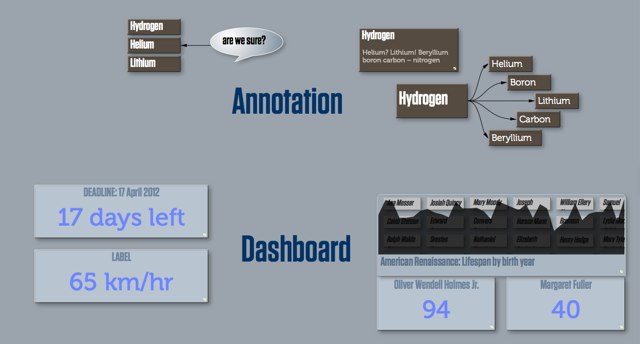 New Actions
Tinderbox agents, containers, and adornments can be set up to act on your behalf, automating routine chores and helping to keep your document clean and organized. Rules and actions make Tinderbox a spreadsheet for ideas.
Tinderbox's action language has been rewritten to make it easy and intuitive while bringing you unprecedented power to make your document work exactly the way you want. Many quirks and sources of confusion have been banished, making actions easier to understand and to improve. Some highlights:
New facet syntax lets you write $StartDate.month or $Color.brightness. The older function syntax month($StartDate) is still supported, too.
Lots of powerful new list actions work with tags and topics. Lots of new tools for building, sorting, reversing, and testing sets and lists.
Clean conversions let you convert strings to numbers and dates, and format dates, numbers, and lists exactly as you prefer.
$Text.contains("pattern") makes agent queries simple.
Automatic Backups
Tinderbox now automatically saves a backup copy of your documents when you open them. By keeping up to four generations of backup, Tinderbox ensures that you can easily correct mistakes.
There's a new preference setting to turn off automatic backups for sensitive documents.
New System Attributes
The attribute $IsAdornment lets rules and actions behave differently for adornments and other kinds of notes. This can make Smart Adornments much easier to write!
Sometimes, you want a bunch of notes to inherit a Rule or Display Expression, but don't want the rule to apply to the prototype. New intrinsic attributes $RuleDisabled and $DisplayExpressionDisabled let you turn off rules or display expressions for individual notes.
And there's more...
A new Preference setting lets you choose whether making a link selects the start or the end of the link.
Adornments can now have their own badges.
Badges appear in Chart views.
Pasted notes retain their prototype.
Updated and extended Tinderbox Help.
Improved internationalization support.
Want to share part of your outline? Select it in Tinderbox, and paste it into your favorite word processor.
And still more!
See the release notes (in the Help menu) for details on more than 100 significant changes.
You'll find big updates in Tinderbox Help (with extensive revisions to the Actions chapter and Appendix), to the Tinderbox Cookbook, and to Mark Anderson's invaluable aTbRef Tinderbox Reference.