Tinderbox 5.9
Upgrade
Upgrade from any previous version of Tinderbox. $98
Tinderbox
Tinderbox 9.5.2 for Macintosh. $289
NOW WITH MORE ZOOM...
Tinderbox 5.9 opens and saves huge bundles of notes more quickly, letting you switch projects in moments. Agent updates are faster, too. Use all the agents you want; they'll do their work and won't get in your way.
MORE INFORMATION...
Tinderbox maps are packed with information, but sometimes you'd like a little more detail. The new HoverExpression lets you reveal extra detail about the note you're pointing to, without clutter and complexity.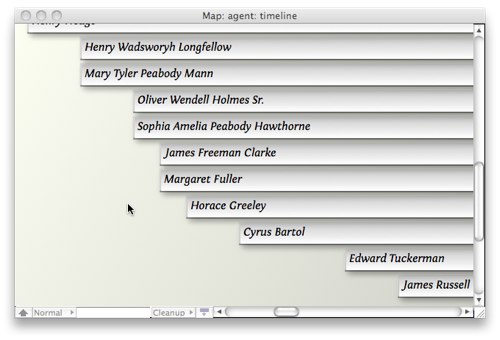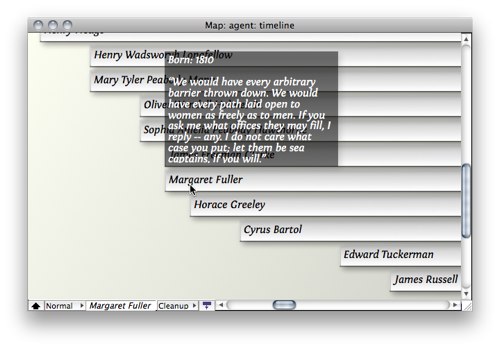 Hover expressions are superb. Once again, something I never knew I wanted until I got it. Bravo! – Michael Bywater
MORE SMARTS...
Key attributes now offer autocompletion, helping you add information quickly and accurately.

Tinderbox now automatically looks up addresses to find the corresponding latitude and longitude. Mapping your prospects or planning your book tour has never been easier.
MORE CONNECTIONS....
Simplenote syncing has been completely rewritten to use the Simplenote's latest API. Tags are now fully supported, and you can limit your Tinderbox document to syncing notes with specific tags.
In fact, all Tinderbox's network support has been rewritten from the ground up, providing faster and more reliable connections that won't get in your way if your network is slow.
MORE PERSISTENCE....
Do you live in Tinderbox? Tinderbox can now reopen your work at startup, helping you resume where you left off while saving you valuable seconds.
MORE GRAPHS...
Tinderbox dashboards can now use XY Plots, which join bar plots, plots, and histograms to help you discover patterns and stay abreast of developments.
MORE ART...
Embedded images return from their vacation, both in text windows and image adornments. Image adornments now work beautifully with shapes, too. Whether you need a photo references for the characters of your novel or simply want to include some diagrams on a Web page, Tinderbox is ready.
and more!
Map backgrounds can be gradients. Help for actions has been rewritten and simplified. Checkboxes appear in outline columns, and integrate more nicely with imported files. Better support for IAWriter and QuickCursor.
See the release notes (in the Help menu) for details on more than 50 significant changes.
You'll find big updates in Tinderbox Help (with extensive revisions to the Actions chapter and Appendix), to the Tinderbox Cookbook, and to Mark Anderson's invaluable aTbRef Tinderbox Reference.