Tinderbox 6.4
Upgrade
Upgrade from any previous version of Tinderbox. $98
Upgrade Subscription
Upgrade annually, cancel anytime. $83
Tinderbox
Tinderbox 9.5.2 for Macintosh. $289
HIGHLIGHTS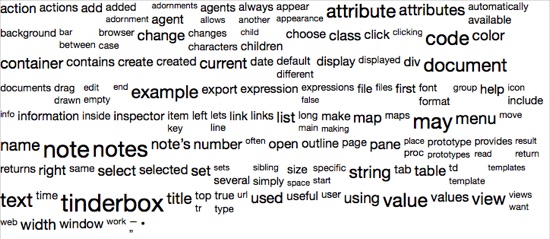 Word Clouds
A new Get Info pane gives you a handy display of the most common words in your document.
Suggested Values
Attributes can now have suggested values from which you can select, and which are always available in popup menus and autocomplete.
Footnotes
Much more than a detail, footnotes let you create a note instantly from any word or phrase, with links to and from the new notes.
Working With DEVONthink
The new DEVONthink Pro Office 2.8.8 works better then ever with Tinderbox. Paste a Tinderbox note to DEVONthink, and your Tinderbox $Tags become DEVONthink tags! Notes stay linked, too.
Delicious Library
Do you use Delicious Library to keep track of your books and journals? Now you can copy or drag items from Delicious Library right into Tinderbox and automatically import reference information, and even book covers.
Calendar
Paste or drag events from your Calendar into Tinderbox and automatically set the event attributes of your new note.
And LOTS more!
A new sharing menu lets you share with all sorts of tools, or post to Facebook, Twitter, and more. All new Outline Export creates lovely outlines, instantly. Stamps can be reorganized to work exactly the way you want.
There's plenty more -- see the release notes in Tinderbox Help for details.